101 Veggie Burger Recipes - The Best In Meat Free Burgers!
The Best Veggie Burger Recipes
Do you love a really good burger? I do, but those ready made burgers often tend to be dry and disappointing, that is why I decided to make my own, home made
Veggie Burgers
and I have been on the look out for great Veggie Burger recipes ever since!
You will find lots of great recipes to make home made veggie burgers here so try a few of them out and make a burger which is much tastier and more healthy than the ones that you can buy!
Oh, and just in case you are wondering... no, I haven't tried all of the recipes myself, but, they are all recipes which I would love to try out at some point so I hope to be sampling some of the
best veggie burgers
ever, especially cooked on my grill when it's the grilling season!
photo courtesy of SweetOnVeg at flickr
Best Black Bean Veggie Burgers!
Which meatless black bean veggie burger will you choose?

photo's courtesy of Vegan Feast, lara604, and casschin at flickr
These Black Bean and Pepper Jack Veggie Burgers are fantastic topped with salsa and avocado, but what I really like is the spicy heat of the pepper jack cheese!

If you don't have pepper jack cheese in your fridge then you could try just using cheddar cheese and half a teaspoon of chilli flakes (or one teaspoon if you're brave)... I would put myself in the 'brave' category, but I have to tone it down somewhat when my vegetarian friend who thinks that a twist of freshly ground black pepper is like a furnace in her mouth comes round for dinner! :-)
These these black bean veggie burgers are made with a combination of black beans, chopped red bell peppers and spices then topped with peppery arugula, or rocket leaves.

I love the peppery flavor of arugula, its one of my favorite salad leaves and I think it would be a good garnish for many of the vegetable patties on this page!
These chili lime black bean veggie burgers are packed with flavor giving you a kick of heat from the chili and a zing from the lime... definately one to try!
"If you think you don't like black bean burgers, then consider this a challenge. These are so much better than any veggie burger has business being."
These meatless burgers really do look good alongside the sweet potato fries, I would garnish with a little salad and dressing of your choice.
The corn relish and accompanying slices of lime make these black bean patties look really colorful and appealing!
With cheese, guacamole and tortilla chips, these meat free veggie burgers are enough to tempt anyone!
How many variations on a black bean burger can there be? In this recipe the Chili powder and hot sauce help to give the black bean veggie burger a kick!
I hadn't thought of roasting the vegetables before incorporating them into a veggie burger but it sounds like a great idea and should make for a really tasty pattie.
Topped with tomato, onion, spicy sauce and an awesome looking fiesta slaw, these black bean burgers are sure to tempt you!
Have Great Grilled Veggie Burgers Outdoors At Home Or On The Road
The warmer weather brings along with it the season for outdoor grilling... Yes, its time to get out the BBQ's and grills and fill the air with the wonderful aroma of outdoor cooking and Vegetarians don't want to be left out, so if you haven't got one already, it time to get a portable grill that you can either use at home or take on a camping trip and get grilling those Veggie Burgers!
More Of The Best Black Bean Veggie Burgers!
Just when you start to think that one black bean veggie burger looks like another, along comes another batch!

photo's courtesy of cherrylet, little blue hen, and AJBombers at flickr
Ultimate veggie burger... their words not mine. I can't make that claim because I haven't tried it yet, but it does look good!
What's in it? Black beans of course :-) But it looks interesting, kind of reddish in color (due to the beets) with flecks of brown rice running through it... and brown rice is one of my new favorite ingredients with it's nutty taste and firmer texture.
What can I say?... I'm a sucker for spicy food :-)
Veggie pizza burgers... are they serious?
This recipe for veggie burgers uses canned pumpkin... People in the UK might not be able to get hold of this as easily as our American friends but following a tip that it might be good for our dog's digestion we managed to track down Libby's canned pumpkin at Waitrose... so you have no excuse for not giving these a go if pumpkins aren't in season! :-)
Another variation on a black bean burger.
Sorito is basically onions, garlic, tomato paste, cilantro, red pepper and chili all whizzed up in a food processor.
Baddest? Is that because they taste the worst... or could it be because of the tablespoon of chili powder and teaspoon of hot sauce!!!
"Summer brings us outdoors more and more. For most of us, that means occasional (or frequent) grilling and picnicking. While burgers and hot dogs are a given, for vegetarians or for folks just looking to mix it up this year, homemade veggie burgers are the way to go."
The color of the beets and chipotles make these black bean burgers look truly yummy! Try serving with baked sweet potato wedges.
Smoky chipotle peppers give these bean burgers a unique flavor.
5 Of The Best Veggie Burger Cook Books
Just in case there aren't enough veggie burger recipes on this page for you ;-)
Best Lentil And Bean Burger Recipes
For meat free veggie burgers made using beans or lentils

photo's courtesy of wonderyort, franksteiner, and veganheathen at flickr
Ready made veggie burgers are no substitute for homemade ones and these lima and bean burgers just go to prove that! I like the way that they are served in a bun topped with sprouting seeds (I will have to get some started) and cilantro with a side of rocket and tomatoes
In a little over half an hour you can have these veggie burgers ready to eat! Serve them in a toasted burger bun on a bed of lettuce and red onion for a super tasty treat!
These healthy and tasty chickpea and coriander burgers are high in fiber as well as low in fat
These vegan burgers look so good that you just simply want to make them... or better still, somebody else has already made them and served one up for you to try!
Brown lentils, oats, carrots, spinach and seasoning combine to give you a veggie burger with a crispy outside yet a 'doughy' inner.
I just love the roasted garlic mayo sauce that accompanies these veggie patties
I have not tried celery root in a veggie burger before, I think that, combined with the herbs, it should give the burger an interesting flavor and texture.
Being a chili fiend I used a little bit more than the recipe suggested... the addition of couscous works quite well because it takes on the flavors of the seasonings.
Ok, it's not really bacon that they use, it is vegan bacon and these burgers look stunningly good! The wonderful photography accompanying the recipe just makes you want to reach out and grab one of those delicious looking cheese and bacon veggie burgers.
These burgers topped with cheese, avocado and greek yogurt look awesome!
More Of The Best Lentil And Bean Burger Recipes

photo's courtesy of Tiny Red Kitchen, Lara604, and rusvaplauke at flickr
Have you ever thought of having a veggie burger for breakfast? I haven't, but the recipe suggests that they are equally as good in a bun or served with scrambled eggs... I think curiosity might dictate that I have to try that combination!
I think that seasoning plays a major part in home made veggie burgers and the smoked chipotle in this recipe makes a great seasoning for these bean burgers.
An unbelievably delicious bean burger, the barbeque sauce gives it an extra dimension!
This time the meat free Southwest Burgers are made from kidney beans, so try this if you prefer these to the black beans in the above recipe
These chickpea burgers are easy to make using a food processor, vary the amount of spices to suit your taste and you have the perfect meatless veggie burger!
"For the past several months, I've been on a quest to make a veggie burger that had everything on our wish list. I've probably made over 100 veggie burgers and they all came up short..."
Canned chickpeas mean that these burgers are quick and easy to make
What struck me about this veggie burger recipe was that the burgers are cooked in a Whoopie Pan! What a good idea if you are cooking indoors and have trouble with your burgers breaking up when you flip them!
Personally I'm not too sure about having a burger for breakfast but with the inclusion of mushrooms and topped with a fried egg, I can see why some people might like this meatless burger for breakfast.
This veggie burger recipe is made easier with the use of canned lentils in the patties, which are baked and not fried.
We took inspiration from falafel when developing these burgers — but unlike the dense, often dry deep-fried chickpea fritters, this sauted patty is light and rich in texture, with added depth from roasted garlic.
Who Wants Curly Fries On The Side?
I think that I would love one of these little gadgets, looks like they make fries more fun!
Sloppy Joe Veggie Burgers

photo's courtesy of Burger Baroness, watashani, and rusvaplauke at flickr
I can't believe that these vegetarian Sloppy Joes are so easy to make! Just open a can and a jar, add a little bit of seasoning and heat through until warm... fantastic if you don't have a great deal of time to prepare dinner!
Topped with pickled gherkins, these sloppy lentil joes look to be a wonderfully tasty, messy sandwich!
I will be surprised if the images of these meat free sloppy's dont set your taste buds tingling and have you wanting to make them! The recipe calls for a teaspoon of liquid smoke which I haven't come across before, but it is optional, they just wont taste smoky without it.
Food Network invites you to try this Sloppy Veg-Head Joe recipe from Rachael Ray.
These Summer Squash Sloppy Joes look mouthwatering, served with a side of corn on the cob and spinach leaves
Served on a slice of cheese in a wholemeal bun, I like the look of these Snobby Joes!
A healthy and tasty vegan version of sloppy joes
"Check out this vegetarian version of sloppy joes!"
In this recipe "texturized soy crumbles aim to imitate ground beef".... I'm not sure about this because at least one of my vegetarian friends is so because she doesn't like the texture of meat... however I am sure that there are many more who don't mind, so I have included the recipe here.
"Sloppy joe recipe adapted as a vegetarian & with Japanese flavors. Japanese veggie sloppy joe's might have "sloppy" in the name, but they're rather pretty!"
5 Of The Best Vegetarian Grilling Cookbooks!
Remember to cater for vegetarians at your BBQ
Cuisinart DLC-10S Pro Classic 7-Cup Food Processor
Having one of these in the kitchen really means I save a lot of time and effort....
Best Veggie Slider Recipes

photo courtesy of naotakem at flickr
Martha Stewar's Bean-and-Veggie Sliders recipe is made up with kidney beans, rice, carrot, broccoli, ginger and cilantro (coriander)
Sunshine in a burger bun! One look at the photos of these meatless burgers will have your mouth watering and you rushing to the kitchen to prepare them!
I'm not sure where I would get the spice blend which is used in this recipe but I guess I could find out what is in it and make my own... I'm quite interested to see if the addition of lemon makes tis veggie burger zing!
"This is the ultimate not-your-average veggie burger recipe that I just can't get enough of!" chef Chloe
They look good with their mango sauce and guacamole layers.
Tofu forms the basis of this Oriental style slider.
The recipe is enough to make 22 3oz veggie sliders, but you can easily adjust the quantities in the recipe and make them regular burger sized.
"Less is certainly more when it comes to the tiny and adorable appetizers known as sliders."
Loving the vibrant colors of the ingredients that go into these little veggie sliders.
2 cups of bourbon go in to make this vegetarian slider recipe... Not particularly liking bourbon myself, I may have to give this one a miss!
"Recipe for Spicy Black Bean Basmati sliders topped with your choice of three different toppings and fresh baked bread."
If you like the easy sweet potato veggie burgers with avocado (in the group below) then you will like these mini vegetarian sliders which use a similar mix and are Cajun spiced, although I guess you could use your own combination of spices if you don't like a Cajun flavor in your vegetable patties.
Veggie Burgers
The emphasisis is on the vegetables in these meat free burger recipes.
photo's courtesy of Vegan Feast Catering, Dano, and seelensturm at flickr
If you are not keen on beans why not try these burgers which are made with sweet potato and tofu and flavored with tahini, maple syrup, paprika and rosemary
Yes, it is what it says... the spinach means that this veggie burger is indeed green... topped with a helping of blue cheese it could be something to add to your St Patrick's Day menu
I love eggplant (aubergines) and I like to try out new recipes using it, so when I found these farmhouse veggie burgers I was keen to try them, I liked the sound of the cajun seasoning with the garlic. I used normal instead of vegan cheddar and I made my own breadcrumbs for the recipe.
These meat free burgers cook well in a skillet, or frying pan but if you are going to cook them on the BBQ I suggest you use a Grilling Basket as it helps the burgers hold together better.
I just had to look at this because it sounded so different from a lot of the veggie burger recipes that I found and I think that the sweetness of the beetroot should work well. The burgers use a vegetarian sausage mix which you should be able to get (or at least an equivalent brand) from your health food store
Sometimes I like to have a veggie burger which doesn't contain beans or pulses and this one definitely fits the bill... and they look so good that they simply have to make it to my 'must try' meatless burger list!
I love an easy recipe when I'm short on time and one that produces a veggie burger as good as these look has to be a hit!
Another betroot burger recipe... this time combined with soy chuncks and seasoning.
This is a veggie burger that I will try out... I like the fact that it has indian spices in it, I shall probably add some fresh ginger too... my partner would say that I am addicted to ginger, I'm not, I just like to have it in most things :-)
I love the color that the beets bring to this vegetable burger! The beets are combined with black beans, brown rice and herbs to produce yummy looking vegetable patties.
Awesome Mushroom Veggie Burgers

photo's courtesy of vanessayavonne, janineomg, and Vegan Feast Catering at flickr
Olives, ricotta and mushrooms make sure that these quick, easy, and healthy veggie burgers stay wonderfully moist... far better than any ready made patties.
"A vegetarian dinner of portobello mushroom burgers, topped with slow-roasted tomatoes, grilled onions and smoked mozzarella"
Portabello mushrooms with blue cheese (we call them black and blues here) go really well together, but blue cheese can be a bit of an acquired taste, so if you haven't had it before try to go for a milder flavored one when making these.
Oh yes... an excuse to have crispy onion rings, and on a portabello mushroom burger too. Does it get any better!
Another variation on a theme... topped with onions, smoked cheese and barbeque sauce these veggie burgers look to be worth a try!
If you have never had porcini mushrooms before, let me tell you that they are a wonderful ingredient to keep in your store cupboard. You buy them dried and usually soak them before you use them, the soaking liquid gives you a deep flavored stock which can be used in soups and risotto's etc, and the mushrooms have a nice deep meaty flavor.
"These tender savory Sunny Mushroom Burgers or Nuggets are packed with healthy stuff like beans, mushrooms and veggie protein. Savory, slightly cheezy, a hint of sweetness with accents of earthy flavors."
These meat free burgers are baked instead of fried so that will help to cut down on the calories if you are trying to watch your weight!
The difference with this burger is that the mayo is on the inside, not the top!
The burgers don't appear to be the easiest to make, but they do look good!
Served on their own with a salad, or in a bun with all of the trimmings, these patties are sure to be a hit.
Ultra-savory portobello patties get a further umami boost from blue cheese and rich red onions in this meatless main course.
Continental Style Veggie Burgers

photo's courtesy of Annie Mole, johnsu01, and Vegan Feast Catering at flickr
If ever I was going to start eating veggie burgers this one would be the one that would do it for me! I just love Indian food and spices so this was one I had to try... It is also worth trying them, as suggested, using part cauliflower instead of all potato... I am drooling just thinking about them!
Try these veggie burgers with a Thai twist served with shredded red cabbage, cilantro and plain yoghurt
"Veggie burgers packed with all the Mediterranean flavors of falafel and smothered in a chunky feta tzatziki sauce."
"Tired of the same-old veggie burger? Thai seasoning and an oatmeal/chickpea mix will get you out of a rut."
Oh my, these meatless burgers sound so good, topping them with pineapplr rings is a great idea!
curried lentil burgers.
Plantain is a new ingredient for me, I have never cooked with them before, but making these plantain patties into burgers sounds interesting and you don't need a ton of ingredients to make them either, there are just 6 more ingredients to add including onions, garlic, ginger, green chili, cilantro and turmeric.
I'm almost sure to like anything spicy or 'curried' and that is why these veggie burgers caught my eye! In this recipe the burgers are topped with tomatoes and spinach but I think that a raita might go really well with them too.
Oh I do love Jamaican style food, spicy and bursting with flavor... and the habanero in these are sure to provide a bit of heat!
At first glance there seems to be quite a few ingredients in these but they are mainly what you will have in your food cupboard, or you can pick up easily at your local Asian food store... I have to say that these meat free Indian style patties look absolutely wonderful and are yet another one to make it to my 'simply must try' list!
Sun dried tomatoes, basil and feta cheese bring the flavor of the Mediterranean to these meat free patties... I might be tempted to take them one step further and add some olives blitzed in the processor.
Lots of olives and herbs give these veggie burgers a Greek feel, they look great served in pitta bread with tomato, feta, lettuce and Tzatziki sauce
My Home Made Dabeli Veggie Burgers
I love Indian street food and these Dabeli meatless burgers are one of the best!

photo's are from my own album
I'm making these Dabeli burgers today, I don't have any Dabeli masala spice mix so I made my own, which is simple to do, and since I am trying to eat a little healthier right now my recipe is a variation of the one in the list above substituting some of the potato for cauliflower.
For the Dabeli masala mix you need:
1/2 tsp cumin seeds
1 tsp coriander seeds
2 red chillis (I used dried)
1/2" stick of cinnamon
2 cloves
For the Dabeli masala all you have to do is toast the ingerdients in a dry pan for about 3 minutes and then grind them to a powder. You can do this in a pestle and mortar as I did, but you may find it easier with a Spice Grinder because you will get a finer powder, those cinnamon sticks take some grinding!
Now, I couldn't find my cloves so I cheated a little and added a pinch of ground cloves to the mix.
For the Dabeli burgers you need;
1/2 tbs oil (or for a healthier version I used spray oil)
1 cup mashed potato
1 cup cauliflower (roughly mashed) 1/2 red onion (diced)
The Dabeli masala
Salt to taste
Water if required
You can use leftover mashed potato for these veggie burgers... alternatively, and even more healthy, I microwaved a decent sized potato for this (about 250g) and scooped out the flesh to mash (without butter), saving the skins to make a crispy potato skin side dish. I don't like burger buns so the 'bun' is two circles cut out of slices of wholemeal bread.
Heat the oil in a pan and add the onions and masala mix. Stir and fry until the onions become tender.
Mix the potato with the cauliflower and add to the pan, stirring everything together so that it is well mixed. add a little salt if required then remove from the heat and let the mixture cool.
When cool form the potato mixture into burgers and refrigerate until ready to cook.
I like to bake my veggie burgers, it stops them breaking up when you turn them in the frying pan, so to cook the burgers all you need do is spray a non stick baking tray with cooking oil and put the burgers on this, spray the top of them with the oil and bake in the oven (fan 190 degrees) for about 35 to 40 minutes until going brown on top.,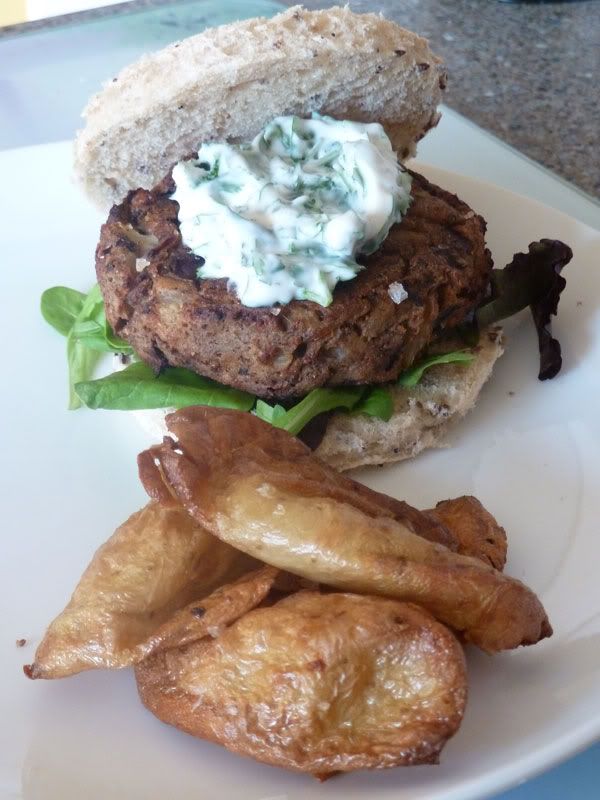 My homemade Dabeli burger served with salad and a little yogurt and coriander sauce, with a side of crispy potato skins.
Tofu Burgers
This homemade tofu burger is one to try!
I have tried tofu before and thought it was quite bland, perhaps due to the lack of seasoning, but these tofu burgers seem to be well seasoned, making me think that perhaps I should give tofu another chance.
Quinoa Veggie Burgers

photo courtesy of SweetOnVeg at flickr
These certainly make a change from the 'usual' veggie burgers and I love the idea of using a cilantro (or coriander) pesto as a topping!
The recipe shows these meat free burgers served with a creamy onion dip and I have to say that they do look nice when assembled in the bun.
The sight of the yolk from the fried egg oozing over the edges of these veggie burgers makes you want to reach out and grab one!
This Quinoa veggie burger is also suitable for vegans, personally I might substitute the parsley for cilantro (coriander) but thats just my preference.
These burgers look tasty and are only 132 calories each without the bun if you are trying to watch your weight!
"Even if you don't like eggplant, you will love these veggie burgers, which really don't taste like eggplant at all! Their mild curry flavor goes well with traditional condiments or, if you like heat, try the Spicy Onion-Pepper Relish (recipe included)."
The melted cheese oozing over the edge of this burger makes it look so yummy, you are going to want to try it!
Using beets in veggie burgers does make them look interesting, the color that they take on almost makes them look like they have meat in them.
In my opinion these are one of the best looking quinoa burgers that I have seen, I don't know whether that is due to the use of rainbow quinoa (I've never come across that before). The writer suggests that these burgers are even better when cooked the day after they are made up, because it gives the flavors a chance to develop.
If you like the flavors of the South West then check out these Southwest Quinoa Veggie Burgers... It is claimed that they don't crumble!
Our take on a classic meatless burger calls on a slew of vegetables for flavor, color, and texture: carrot, celery, arugula, beans, and — the ingredient that really makes it is quinoa.
Like This Lens?
This module only appears with actual data when viewed on a live lens. The favorite and lensroll options will appear on a live lens if the viewer is a member of Squidoo and logged in.
Will You Be Trying Any Of These Veggie Burger Recipes?
Or do you have your own favorite meat free burger recipe?
Please leave your comments here...
Try Some More Of My Vegetarian Recipes