Party Like it's 1989!
Get back to the 80's with an awesome eighties party.
This lens everything 1980's from top party tunes to funky retro fashion and memorable 80's movies that will take you back to the decade of feathered hair, hefty shoulder pads, legwarmers and splashes of neon and pastel colors.

Join our party or throw your own with 1980s T-Shirts, Girls and Guys Eighties Fashions, Mix Tape Ideas and Voting Booths to rank your favorite 80s pop culture music, music and movies. 
Get the Right 80s Music for Your Party!
New 80s Poll
Do You Remember the 80s?
Top Hits of the 80s
The eighties artists who topped the charts!
These megastars of the eighties ruled the airwaves and MTV with platinum and gold rock and pop albums. Get your party started right with songs from these red hot stars!
Pat Benatar
,
Billy Idol
,
Guns N Roses
,
Robert Palmer
,
The Police
,
Bananarama
,
The Go-Go's
,
Dire Straits
,
Duran Duran
,
Van Halen
,
Foreigner
,
Phil Collins
,
Wang Chung
,
Tears for Fears
,
Heart
,
Juice Newton
,
The Eurythmics
,
Def Leppard
,
Bryan Adams
,
Queen
,
U2
,
Madonna
,
Cyndi Lauper
,
Tina Turner
,
Bruce Springsteen
,
John Mellencamp
,
Olivia Newton-John
,
Prince
,
Michael Jackson
,
Janet Jackson
,
Whitney Houston
,
Beastie Boys
,
Bon Jovi
(Links go to artist profiles on Wikipedia)
Awesome 80s Party Music
Creating the ultimate eighties playlist.
Keep your party bumping with the top good time 80s party hits from megabands to one hit wonders. A good eighties mix will keep people dancing with different genres from pop tunes to alternative to club classics and bumpin' old school hip hop.

Here are some ideas to get you started!

80s Pop Classics and One Hit Wonders
Prince – Raspberry Beret
A-Ha – Take On Me
Madonna – Like A Virgin
Billy Idol – Rebel Yell
Michael Jackson – Billie Jean
The Police – Every Breath You Take
Eurythmics – Sex Crime 1984
Duran Duran – Hungry Like the Wolf
Blondie – Rapture
Tiffany – I Think We're Alone Now
Thomas Dolby – Blinded Me With Science
Nena – 99 Red Balloons
The Go Go's – We Got the Beat
Bruce Springsteen – Dancing in the Dark
Hall and Oats – You Make My Dreams

80s Alternative
The Cure – Boys Don't Cry
Jesus and Mary Chain – Just Like Honey
English Beat – Mirror in the Bathroom
The Smiths – The Queen is Dead
The Clash – Train in Vain
Fine Young Cannibals – Suspicious Minds
Depeche Mode – Just Can't Get Enough
Yello – Oh Yeah
The The – Perfect
New Order – Bizarre Love Triangle
Frankie Goes to Hollywood – Two Tribes
The Ramones – Rock and Roll Radio
Yaz – Situation

80s Hip Hop Jams
Tribe Called Quest – Can I Kick It?
Beastie Boys – Fight for Your Right to Party
Salt n Pepa – Let's Talk About Sex
Rob Base and DJ EZ Rock – It Takes Two
Run DMC – It's Tricky
EPMD – Strictly Business
Slick Rick – Children's Story
Public Enemy – 911 is Joke
Tone Loc – Funky Cold Medina
Biz Markie – Just a Friend
Eric B and Rakim – Paid in Full
80s Mix Compilation CDs and MP3
All the Party Music You Need
Great music is of course the most important element to an epic 80s party so be sure to have lots of peoples favorite songs available. Try to cover some different genres with pop, dance, alternative and rock. These compilations will get any 80s party rocking with their mix of the best 80s hits from the biggest stars and one hit wonders.
Battle of the Bands
What's your favorite 80s music? Vote now!
From bubblegum pop to rocking metal bands to indie alternative and early hip hop there was no shortage of tunes providing a constant soundtrack to the decade.
Vote here for your favorite style of music from the eighties!
Embed
1980s Keyboard Solo Medley
Listen to this jam and try to spot each classic eighties synth riff!
1980s Fashion for Men
If you wanna party 80s you gotta look 80s so here are some stylish retro dress ideas for the guys.
Check the pics below for some eighties fashion inspiration!
1980s Fashion for Guys - The Rocker
Questionable Men's Stye of the 80s
If you wanna party 80s you gotta look 80s so here are some ideas for the guys. There are a number of ways you can approach this – rocker, prep and Miami Vice are always stylin' or maybe you are more the alternative pop star or punk rocker type. Check the pics below for some inspiration!
Rocker Looks:
I'm not sure what happened to rocker's in the eighties, bands like Motley Crue and Poison were all talkin' tough and wearing leather but accessorized with makeup, crimped hair and neon spandex pants. These bands knew how to party and so will you in your silk shirt or vest with no shirt open to show off the necklaces, spandex pants or tight black jeans, big shades, headband and poofy hair. A tacky temporary tattoo is a nice detail.
Heavy 80s Rocker Gear
Rock and Roll Costume Ideas
Miami Vice
Casual 80s style for guys.
With the classic 80s Miami Vice look you can go uptown or downtown with the laid back Sonny Crocket look or Tubbs' pimpin city style.
If you want to be Don Johnson think pastels and white – go for a deconstructed jacket with shoulder pads, light cotton pleated pants and a summery tee in a pastel color, don't forget the Rayban wayfarers. Shoes should be light canvas or mesh and no sock necessary!
For a dressier Ricardo "Rico" Tubbs look think shiny silver suits, top buttoned silk shirts, colored dress shirts with a white collar, shiny silk ties, a nice watch, pimpin' flat dress shoes with pointy toes and a nice Miami beach tan.
There are a number of ways guys can attain their ultimate 80s look - top styles include rocker, prep and Miami Vice which are all cool or maybe you are more the alternative pop star or punk rocker type.
Preppy Style for Men and Women
Dig out the Lacoste, Polo and Members Only for a preppy 80s guy look. Think mixed doubles tennis matches with pastel golf shirts, bright tennis sweaters, tan chinos or tapered white levis, tennis shorts and wrist bands or a conservative blue blazer with school tie. Don't forget to pop your collar!
Vintage Lacoste from eBay
Designer retro 80s fashion.
The Alternative 80s Look
For you dark brooding 80s music fans.
Can't go wrong with cheery black and white for a brooding alternative eighties look like The Cure or Depeche Mode. White shirts buttoned up to the top or dark t-shirts with retro prints, black jackets, doc martens, lots of hairspray, berets and fetish gear always make for a good time. Dont forget the eyeliner/guyliner!
80s Fashion - Frankie Say Relax
An awesome 80s fashion statement.
FRANKIE SAY RELAX T-SHIRTS adn BABY WEAR
If there is simple a fashion statement that represents the eighties like no other then it has to be Frankie Say Relax. This funky design exploded on the streets following the success of new wave band Frankie Goes to Hollywood's 1984 controversial single "Relax".
Retro Eighties Breakdancing Vids
Mens 80s Clothing on eBay
Quick Poll
Do You Love the 80s?
1980s Fashion for Girls
Everyone's a Pop Star! Streetwise Madonna wannabees, preppy beach girls and downtown power dressers were all sporting colorful gaudy styles in the eighties.
Ulitmate 80s Lady Looks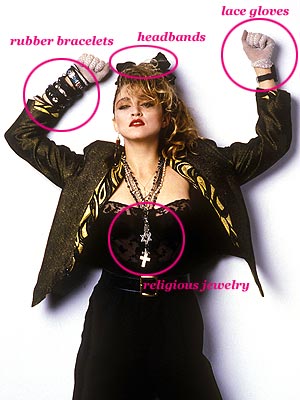 80s Rocker Chicks and Valley Girls were listening to Van Halen and Madonna and rocking some fun colorful styles just like rock stars. Try a cut off short jean skirt, bright colored tights with black fishnet over them and leg warmers over that. For shoes it's more colors with high top converses or vintage sneakers like LA Gear or Rebok.
For a more Bon Jovi style get a pair of western boots with tassels and ripped acid washed jeans. Don't forget to blowdry the front of your hair as high up as possible!
Eighties accessories for girls include lace gloves like Madonna, lots of jelly bracelets, large hair bows, sweatbands, blue eye shadow and off to the side pony tails.
Get The Eighties Lady Look on eBay
80s Girls Just Wanna Have Fun
Belt that long t-shirt, slip on some jelly shoes, designer jeans, bright colored tights, leg warmers, oversized super model sun glasses and get ready to party eighties style!
Amazon Error: B001B13E96 is not a valid value for ItemId. Please change this value and retry your request.
Amazon Error: B000X5PG60 is not a valid value for ItemId. Please change this value and retry your request.
Power Dressing in the Big 80s
Yuppie Dreams in the City
Heather Locklear and Joan Collins from the 1980s prime-time soap Dynasty epitomize the powerful eighties woman. These upwardly mobile 80s women can be identified by their jumbo shoulder pads, big jewelery, big hat and big hair. I think you could say the keyword here is BIG and Dynasty was a big tv hit during its run from 1981-1989 on ABC.
80s Sunglasses from eBay
Essential eighties style.
Eighties Entertainment
From comedies to action to high school drama, 1980s movies and TV shows were the best! Get in the mood to party 80s style with these classic films featuring your favorite 80s stars.
Karate Kid - Final Battle
All that Waxing On and Waxing Off pays off!
John Hughes Movie Poll
Vote for your favorite John Hughes 80s movies!
John Hughes directed the most popular comedies of the 80s and his films have come to define the era.
Hughes is probably best known for writing the coming-of-age 1980s teenage dramatic comedies co-starring Molly Ringwald: Sixteen Candles, The Breakfast Club and Pretty in Pink (the first two of which he also directed).
John Hughes also wrote and directed the teen comedies Weird Science and Ferris Bueller's Day Of. What is your favorite
80s movie
? Share it in our guestbook at the end of this page!
Embed
Cosby Show Bloopers
Laugh with the Huxtables when things go wrong :)
There were no videos found or there was a problem contacting YouTube. If you have selected only one video, there may be restrictions on the video that do not allow it to be embedded.
Cosby Show Tribute T-Shirts
1980s TV sitcom watchers will remember the Huxtable Family from the Cosby Show. This line of
designer Cosby shirts
has Cliff and Clair plus the kids Denise, Theo, Vanessa and Rudy.
Eighties Groupie Apparel
Funky retro 80s streetwear print.
Are you an
Eighties Groupie
?
1980s lovers will love these retro pastel colors and the art deco style lettering straight out of Miami Vice.
Add your own buttons to complete the eighties groupie look!
1980's Goals and Ideals
This forgotten board game sums up 80s Western culture in single image. You've got airbrushed silk workout shorts, leg warmers, sweatbands, suburban mansions, wind surfing, solid gold singing, Ferrari driving, tennis playing, executives behind the desk, lush green lawns, and a little bit of Europe just to make things feel a little international. For me this evokes Wimbledon, John McEnroe, Olivia Newton-John getting physical, the Surfing fashion craze, Princess Dianna, hardly working at the office, Magnum P.I., and Life Styles of the Rich and Famous all rolled up into one awesome piece of cover art.
Found at
Branded in the 80s
.
Featured Retro Lenses
More 80s fun this way!
Follow Me on Twitter!
Visit the 80s Blog
Recent Posts from the Eighties Blog
80s Resources
Need more 80s info for your retro party?
Find more fun 1980s info online at blogs, forums and retro t-shirt shops.
Blog covers retro 80s music, movies, tv, fashion and shopping.
Extensive 80s forum topics and knowledgeable members that can help with any eighties quesions.
Firendly 1980s message board with tons of 80s information plus a blog and gallery.
Hip vintage styled retro 80s t-shirts for men women kids and baby.
Funny retro 80s shirts, vintage travel shirts, political shirts and more.
Sweet 80s shades.
Fashionable 1980s denim.
Guestbook - Share Your 80s Memories Here
Greetings to all 80s fans from around the world!

About the Author
Creative writer, graphic designer, web developer, musician and DJ. Check out my graphic t-shirts and stylish dog lover gifts or say hello on Twitter! Hear... See full bio