Grocery Budgeting for Two: Under $25 a Week
Can it really be done?
Yes, it can and I will show you how! My husband and I eat all our breakfasts, lunches, and dinners for under $25 a week. Once you get the hang of it, it's not too hard.
Even if you can't get this low due to where you live, that's okay! These ideas should still help you lower your grocery bills.
When I received an email from
Panera about their founder and CEO Ron Shaich's
decision to live on the equivalent of food stamps for a period of time, I was curious. According to the email and other news sources, he and his wife are trying to live on a grocery budget of $4.50 a day. This adds up to $31.50 a week. While I totally agree with his desire to raise awareness for hunger in America, I must admit I was irritated by all the attention he was receiving for his "sacrifices." Let me tell you my reasons.
About two years ago, I had to quit my secretarial job for health reasons. This meant my husband and I would be forced to survive on one income, and a teacher's salary at that. We'd recently bought a house in a nice neighborhood near his parents and had purchased my very first car about a year before. We had other bills, including insurances, to pay and suddenly had a sizable drop in income. We cut out everything but the essentials. We never had cable, we don't travel a whole lot without help, and we don't eat out very often. Somehow we manage to get out and do things a couple times a month, and we are thankful for that. We're not suffering brutally or anything.
We're comfortable.
After determining everything we couldn't cut, one of the first things we decreased was our monthly grocery budget. We had been spending about $40 a week on groceries. We cut that almost in half - a challenge I willingly took on.
Our desired budget before tax is around $20.
It's been hard at times, but we are both healthy and well-fed. Every once in a while, we have to go over maybe $5 or so depending on essentials. We're not perfect at it, but I have learned a lot about stretching a buck and stretching a meal. I hope my tips will help you if you are struggling to fed your family on a low grocery budget. Please feel free to leave your suggestions!
*Writer's note: While I do understand that food prices vary throughout the U.S. and the world, and in some places this budget would be extremely difficult, the purpose of the lens is to give you ideas as to how you might be able to lower your weekly grocery budget significantly. I also want to point out that often in places where food prices are higher, salaries are also usually higher. This fact merely demonstrates that both these factors tend to cancel each other out. The point is, pick a budget goal for your family and do your best to learn how to manage it, even if your goal has to be a number higher than mine.
All photos are mine. All rights reserved.
Real Food on a Budget
We are all about REAL food, aka not prepared meals in a box. Most of the meals I make are from scratch with the exception of things like tortillas, which I haven't mastered yet, some canned items, cereals, and pasta. All ideas on this page are given with the desire to encourage you to cook without turning to Hamburger Helper, which is more expensive and less healthy anyway. In the long run, preparing meals from scratch is cheaper and healthier, at least in my experience!
25 Ideas for Stretching a Dollar and a Meal (more ideas down the page!!!)
Keeping with the theme!
I challenged myself to think of 25 ways I stretch a dollar or a meal. Here are the results of my brainstorming.
1

Plan, plan, plan! Make a meal plan for the next week with your desired budget in mind. Mine is $20 with a little wiggle room. When I make a plan and a list, I am much less likely to make impulse buys. You can do as I do and plan based on what you have and what you want to eat, or if you live near a good grocery store for sales, you can plan based on the upcoming sales. Unfortunately, I don't have the frequent sales luxury.

2

Instead of making impulse buys, I make a mental note to find a recipe for something I found interesting or to add it to the list for next week. This also keeps those "what am I supposed to do with this?" items out of your pantry and refrigerator.

3

Use what you have first. Before I even think about my meal plan, I check my fridge and pantry to see what I already have. I usually base my meals off of those ingredients before planning completely new meals. This helps me avoid wasting food and keeps my grocery total low.

4

Pay attention to serving sizes. Almost every food item (minus un-packaged produce) has the servings per container written on it. While some people require more or less, most of us can get by just fine eating the recommended serving amounts. It's also a great way to prevent giving out too much food, which is then wasted. If you or a family member require more food per meal, take that into account while planning.

5

Take leftovers for lunch instead of buying sandwich stuffs or going out. I make many meals that serve 6-8. Yes, you saw right! For two people, 8 servings provides 2 lunches and 2 dinners. It's actually cheaper to buy the ingredients to make a larger meal than to buy ingredients for multiple smaller meals. This idea is so great, I'm going to give it it's own spot!

6

Make meals that serve 6-8. As I said in the previous bullet, buying the ingredients for a larger meal is actually cheaper than buying ingredients for smaller meals. Here are two reasons why: smaller-sized containers are often more expensive per ounce, and you waste less food by using it all at once. You can also freeze extras for another week if you do not want to eat the leftovers immediately.

7

Use coupons, but only use them for items you plan to buy anyway. Coupons are made to tempt you to buy products you might not buy otherwise. If you start buying extra items just because you have a coupon, you're not really saving any money.

8

Give the store brand a try. While there are some name brands I prefer for certain food items, usually the store brand works just fine. If you don't like it, don't buy it next time.

9

One way I budget for more expensive meals is to fill in the rest of the week with really inexpensive meals. For example, if I really want to have a nice meal one week, such as one with chicken breast or steak, I plan the rest of the meals to be something like breakfast tacos and pasta with tomato sauce. I usually at least try to make the nice meal provide us with a leftovers-lunch the next day.

10

Have breakfast for dinner. Many breakfast foods are pretty inexpensive. Eggs, for example, are cheap and provide a great source of protein. I have also found that pancake mix, biscuits, and other breakfast breads are easy to make from scratch if you have a recipe. Making them from scratch saves you money and is often healthier. You can also add fresh or frozen fruit and a little meat if you desire. Sausage is pretty inexpensive and full of flavor.

11

Use only one meat a week. As meat is only one source of protein, check out your other options. Beans and eggs are great sources of protein and are much cheaper! If tofu's your thing, it's also a great source of protein. If you find a good sale on meat, buy a few packs and freeze them. Just make sure you use them before they get freezer burn. If your family loves meat at every meal, look for less expensive cuts and make the most out of what you have by stretching it throughout the week.

12

Substitute ground chuck with breakfast sausage (not the Italian links type.) Sausage is full of flavor and makes a great addition to pasta sauces and soups. It is also about fifty cents to a dollar cheaper per pound! I don't do this often, however, as sausage is more fatty than ground chuck.

13

Stretch your meat.

Many of us eat way more meat than we are supposed to because we've never learned the proper portion sizes. One chicken breast can feed two people in one meal if plenty of veggies and starches are provided. I also hardly ever serve a hunk of meat. It's usually cut up or shredded for distribution throughout a meal.

We recently enjoyed

this recipe

which used thin beef steaks which I sliced into strips. I seasoned then with salt, pepper, and garlic powder and pan-fried them with just a little oil in the skillet to keep them from sticking. I served them with sliced mushrooms and onions which I cooked after the meat. We added a little cheddar cheese to mimic a type of Philly cheese steak without the bun (gluten-free!). It made a hearty 4 servings from just 2 steaks, 8 oz of white mushrooms, and 1/2 an onion! We also ate two veggies with the meal.

14

Buy dry beans and cook them yourself. It takes a little more time and effort, but you have more control over the ingredients in your food this way. Also, dried beans are tons cheaper than canned ones. I don't even bother to soak mine. I give them a pick through and a good rinse and low boil them in water without salt for an hour, all the time monitoring the water level. (If I am cooking black beans, I usually rinse them and add more water before adding the seasonings due to their black dye, especially if I am adding them to soup.) I add salt and seasonings, and then continue to cook them for 30 minutes. They almost always turn out great. (I've been known to burn a batch, so watch your water level! I keep a 15-30 minute timer going to remind me.) I usually substitute about 1 cup of dried beans for one 15 oz can, which I think is a bit much but it works out well. Also, if you are planning on using the whole bag during the week, cook them all at once at the beginning of the week. They will keep well in the refrigerator.

*One reader expressed a concern about phytic acid in beans being the reason they need to be soaked. I researched this and found very little information, and even fewer reliable sources, concerning this chemical. Therefore, I can neither confirm nor deny this claim. I used to quick soak my beans (a recommended method) and have not noticed a difference in the beans or myself since I stopped. If you feel the need to soak your beans, that is up to you. I may go back to it for a while to see if there is any substance to this idea.

15

Buy rice in bulk. Rice is a great dollar and meal stretcher. One cup of dried rice is the equivalent of 4 servings as it doubles in size during cooking. While I like white and brown rice as is, they are also perfect bases for all sorts of other flavors. I particularly like to cook mine with spices, herbs, and frozen veggies. One way to add extra flavor to white rice is to brown it for a couple of minutes in butter before adding the water and seasonings. I usually rinse it before I do this. (It's also a pretty good gluten-free substitute for crackers in meatloaf.) I do agree with one reader that rice is not super filling, but 'beggars can't be choosers' sometimes. I have found brown rice to be more filling than white rice.

16

Pasta is a great dollar-stretcher as well since it costs around a dollar a box. One box of pasta, if you use the recommended servings, will make 7-8 servings. Whole wheat pasta is packed with nutritional goodness. Semolina is just yummy. Often, I make all the sauce at once and just enough pasta for dinner that night and lunch the next day. For our next pasta meal that week, I cook the pasta fresh and heat up the sauce.

Gluten Free Me: Now that I've found I am sensitive to gluten, I have to buy gluten-free pasta if I want to have pasta without getting a stomach ache. It is about 2x the price for 2 less servings, but the extra indulgence is worth it from time to time. I find that the varieties with corn and rice flour are more like wheat pasta in texture and taste over rice flour only pasta. I will buy the GF pasta for me and the normal or whole wheat for my husband. I have to cook them separately, but this stretches the GF pasta. I wouldn't recommend this in a household with a member who is allergic to gluten or wheat, only gluten-sensitive households.

17

Another inexpensive and healthy base ingredient is potatoes. At our local store, we can get 5 lbs of Russet potatoes for about $3.50. That's a lot of potatoes, but they last fairly well in the darkness of our pantry. Some easy ways to cook potatoes are baked, mashed, fried, baked fries, and casseroles. They make a great addition to soups as well. Another favorite potato of mine is the baby red potato. I find I can stretch a bag fairly well over several meals. They are great for roasted herb potato side dishes, and since you don't have to peel them, they are easy to prepare.

18

Don't forget your veggies! While some vegetables are expensive, inexpensive and very healthy ones exist. For instance, sweet potatoes are packed with nutrition and pretty cheap. My favorite way to enjoy them is to clean them, rub them down with oil (which helps them release their skins), wrap them in aluminum foil, and bake them at 425 degrees F for about 1 hour and 15 minutes. By then, they are tender, sweet, and delicious! I just add a little butter and salt. No need for marshmallows or brown sugar!

Another tip for veggies is to buy them in season. If they are expensive right now, try looking for the frozen ones (if you are going to cook them). They are just as healthy and, as they are frozen, will keep longer if you don't need the whole amount that week. Frozen veggies are also reasonably priced. My staples are frozen corn, peas, peas and carrots, and broccoli. They make great additions to just about anything. Some fresh veggies that are versatile and inexpensive year-round are carrots, onions, and whole white mushrooms (aka fungus).

19

Buy fruits when they are in season. If you pay attention to prices, you'll notice that some fruits are more expensive at certain times of year than at others. In winter, your best bets are apples and oranges. In the summer, the prices of peaches, apricots, strawberries, grapes, other berries, plums, and melons drop a little. I can't help you with bananas as I can't stand them, but I think they are always a good buy as well. Canned fruits in their own juice (with no added sugar) are also healthy and normally a good buy. Frozen fruits (or frozen by you) can also be good options. Frozen blueberries are particularly good in pancakes.

20

Choose inexpensive breakfast foods. Every morning in the warmer months, except for occasional Saturday mornings, I eat a small bowl of cereal with milk. Each box usually lasts me about 2 weeks. In the colder months, I prefer oatmeal. Oatmeal is a fantastic dollar-stretcher because it is inexpensive and comes in large containers. I like mine made with milk and a dash of salt, then I add a spoonful of plain yogurt, a dash of cinnamon, and demerara or brown sugar. Sometimes I add blueberries (frozen or fresh). You can also use the oats to make cookies or muffins. I buy the quick-cooking kind and have had no trouble using them in recipes. (Demerara sugar is expensive, but my mom makes a gift of it to me sometimes when she finds it on sale.) Note: My husband does not eat breakfast except on weekends. He just can't handle it that early.

21

Grow a small garden if you can. Although our garden this year did not dramatically reduce our grocery budget, it was fun growing veggies to add to our meals. This year we grew squash, cucumbers, bell peppers, jalapeno peppers, habanero peppers (hubby likes spicy foods), and watermelon. A friend of ours happily received a bunch of our surplus squash and cucumbers. For some, this seriously helps out with their budgets, so it's worth a try.

22

Be creative! Recipes are great, and I love searching my cookbooks and the internet for new recipes. However, I often find that one recipe will end up maxing out my budget. One way I handle this is to substitute some of the ingredients with cheaper versions or with foods I plan on buying (or already have) and will have a surplus of anyway, such as sweet onions for green onions. I sometimes substitute the type of meat, the vegetables, or the starch ingredients. (I don't buy green onions because I find them unnecessary. I also don't buy celery because neither of us care much for it. I just leave it out of all the soups that call for it. It's okay to leave out or add ingredients.)

23

Step out of your comfort zone. Most of us grew up eating a set group of meals. Here in the Southern U.S., many people were raised on meals consisting of a sizable portion of meat, at least 3 vegetables (mac and cheese counts as a vegetable), and a roll or cornbread. This is generally a healthy-style meal for a hard-working man just coming in from the fields. When I go to a "meat and three," I can't eat half of what's on my plate. Anyways, the point is, back then that was inexpensive because most of the food (including the meat) was grown on the farm. Nowadays, it can get pricey. Instead of always sticking to what you are used to, try to branch out and find new cuisines. I often find many Asian and Mexican dishes to be budget-friendly. Also, there's always pasta from Italy!

24

Don't buy tons of snacks and prepackaged goodies. They are expensive and often do not add any nutrition to your diet. It's best to keep more nutritional snacks, like almonds and fruit, rather than cookies and chips. I also like to make our meals filling enough that we aren't constantly searching for snacks. I make all of our cakes, cupcakes, and cookies from scratch when we want or need them. However, sometimes it's okay to splurge on a bag of corn chips with their salty goodness!

25

Cut out desserts (some). You don't have to have a dessert after every meal. Trust me! If sweets are making you go over budget, cut back on them. It may also be cheaper to make your own. Another alternative is to enjoy a piece of fresh fruit or a square of dark chocolate from time to time. I don't have a heavy sweet tooth, so this isn't too hard for me. I do love good dark chocolate though! Yum!
If you are just starting on a LOW grocery budget:
Keep in mind that it may take a few weeks to build up your pantry and refrigerator staples if you haven't already got them. If you keep at it, though, it will all fall into place.
An Example Meal Plan
A typical week in our household, not counting breakfasts and snacks like fruit
Each week, I plan meals for 6 days. We inevitably have leftovers or a meal provided elsewhere for us at some point in the week. Keeping in mind that I typically keep certain staples on hand (which I have listed below), this is a typical meal plan for our home for a week. (I realized after I made this that the meals here are not very veggie-filled. I do try to have veggies often, so keep in mind this is an example.)
1) Whole Wheat Pasta (any shape) with meat sauce (ground chuck and canned spaghetti sauce*) - 4 servings (Dinner and Lunch)
[In my research, I have found that this is actually a well-rounded meal recommended by nutritionists.]
2) Leftover Pasta with Sauce - 4 servings (D & L)
3) Cajun or Venezuelan Beans (type varies) and Rice (white or brown) with peas, carrots, and/or corn, sometimes with eggs - 4 servings (D & L)
4) Leftover Beans and Rice - 4 servings (D & L)
5) Homemade Cheese Pizza (sometimes I add some whole wheat flour to the crust) - 4 servings (D & L)
[You may choose to add any other toppings. Budget-wise, I like mushrooms, and my husband likes our homegrown jalapenos.]
6) Leftover Pizza - 4 servings (D & L)
*I have tried making homemade sauce in the past and have struggled with it. I've been biting the bullet and buying canned pasta sauce (shame on me). UPDATE: I tired this
Marinara sauce recipe
with a few alterations, and we enjoyed it. Since I do not own a food processor, I bought a large can of crushed tomatoes. I also used dried parsley (on hand) and chicken 'broth' (1 chicken bullion cube and 1/2 cup of water) instead of white wine. I also added another 1/2 cup of water as it was a little thick. (We do not consume alcohol, so I substitute chicken or beef broth in recipes which call for it.)
Items to help you plan your meals
Pantry and Refrigerator Staples
Foodstuffs I keep on hand that I would use in the above meals
Active dry yeast
Salt and pepper
Olive oil and Canola oil
All-purpose flour
Whole wheat flour
Cornmeal
White rice
Brown rice
Eggs (White are just as healthy as brown. The only difference is the color of the shell. What is really important is the diet of the chicken, but that's another story...)
Dried beans
Dried herbs and spices
Fresh herbs from my little herb garden in the summer
Butter
Frozen veggies, such as peas, peas and carrots, corn, and broccoli
An Example Grocery List
from the above meal plan
Notes on meals:
1) Pasta dish - sometimes I add additional dried herbs I keep on hand to enhance the flavor of the sauce
2) Beans and Rice dish - I keep herbs and spices on hand to flavor my dishes.
3) Homemade Cheese Pizza - I keep the dough ingredients on hand, so this is a pretty inexpensive meal for us.

*I added a couple of staples to this list that are items we would be more likely to buy more often than other staples.
1 box of whole wheat pasta, store brand - $1.00
1 lb ground chuck - $3.48
1 large can of Hunt's pasta sauce - $.98
1 one pound bag of dried beans (kidney, black, red, pinto), store brand - average $1.00
Pantry Staple: I often have extra dried beans left over that end up in meals in later weeks.
1 carton of eggs, 18 count - $2.18
Fridge Staple: Eggs last longer than you'd think in the refrigerator. We keep them on hand. Each case of 18 lasts about 2 weeks for us, and sometimes longer.
1 16 oz block of whole milk mozzarella cheese, store brand - $3.29
1 14 oz jar of pizza sauce, store brand - $1.00
Total for this menu plan: $12.93
Other Weekly or Bi-weekly Grocery Expenses
Here are some things we have to buy every week or every other week
Usually, milk and juice alternate weeks, but sometimes we have to buy them the same week. Cereal tends to last me 2 weeks per box. Oatmeal lasts me quite a bit longer.

I always buy bottled 100% juice, not the cocktails. None of the juices I buy have added chemicals or anything bad, even though they are the budget brands.
1 gallon of 2% milk, store brand - $3.49
1 gallon of 100% orange juice, store brand - $3.98 (other 100% juices like apple, peach blends, or berry blends may be cheaper)
1 box of breakfast cereal, brands vary - average $3.25
Total - $10.72
Using the above menu plan, our average weekly grocery budget is
$23.65 + tax
This number assumes we purchase milk, orange juice, and cereal all in the same week. If we take out one of those three, the amount is nearer to $20 + tax.
Additional Tips
My brain keeps on working. I am powerless to stop it.
1

Block cheese is often cheaper than shredded. If you have a grater, you can shred it yourself as needed. You can also pre-shred some for use in a later meal. Just put it in an air-tight container.

2

Bake your own bread. It's easy if you have the time, desire, and good recipes. We never buy bread, rolls, or anything similar at the store, which saves a lot of money. It is also healthier, as I can control the ingredients. Homemade bread also freezes nicely in my experience if you want to bake a few loaves all at once. Now that I've found I am sensitive to gluten, I will have to start figuring out some gluten free options, which I am afraid may be more expensive.

3

One way to bulk up ground meat is to add diced mushrooms (and onions for more flavor) as you are sauteing the meat. I do this a lot if I only want to use 1/2 a pound of ground chuck.

4

Check prices. The store brand isn't always the cheapest. Compare the price per unit to get an accurate idea of which is really cheaper.

5

To add flavor, use a lot of your favorite fresh and dried herbs and spices. If you look for the cheaper brands, they are reasonable, and most of the time, I think they are fine. You can also grow herbs rather easily in small pots inside your home or on your back porch.

6

Corn tortillas are much cheaper than flour ones. They are also a great gluten free option, just check the ingredient warnings. Some store brands are made in same area as wheat products.

7

Another way to bulk up ground meat is to add cooked beans after you brown the meat. For example, we ate breakfast sausage and black bean corn tortilla tacos for dinner with green beans as a side this week.

8

I find that in some recipes it is worth it to pay a little more for extra flavor, such as Del Monte's diced tomatoes with chipotle peppers ($0.98) instead of store brand regular diced tomatoes ($0.68) in Mexican and southwestern dishes. We love this in chili.

9

Vary meals by week rather than day, but not necessarily every week. For example, this week I purchased a 1 lb bag of black beans. I cooked and seasoned the whole pot on Monday. We're including black beans in all of our meals this week. Most of our meals will be Southwestern-inspired, such as a black bean and corn tortilla casserole, black bean and sausage tacos, and black beans with Mexican rice. I am also including veggies with each meal as sides.

10

Instead of buying bottled water, we bought a Brita pitcher with a filter. We replace the filter every few months. It's a much cheaper option if you feel like you need to filter your tap water for drinking. I use tap water for cooking without filtering it.

11

Don't give into buying a lot of soft drinks, drink mixes, or artificially flavored drinks. Save them for when you go out to eat. If we ever have any at home nowadays, it is due to our parents' generosity. I've really become accustomed to not having them and tend to prefer water, milk, or juice at home most of the time. If you really need something else, iced tea bags can be reasonably priced. Next, a Kool-aid tip!

12

When they first came out with the little drink mix packets, I compared the prices to the large containers. The large drink mix containers were much cheaper, and I figure they still are. In college while living in a dorm room, I purchased Kool-Aid power in large containers, portioned it, and used a funnel to add it to my bottled water or reusable water bottle. If I wanted to carry the powder with me, like we did for our Gatorade mix on a mission trip, I put each portion into a snack sized bag. When I was ready to use it, I snipped or gently tore off the tip of the bag (as if I were using it for icing) and used that to funnel the mix into the bottle.

13

Bullion cubes are a good alternative to store-bought stocks. I've had trouble in the past with store-bought chicken stock going bad before I could use the whole container. This was usually when I needed an amount in between the available sizes and had extra left over. Also, bullion cubes are cheaper than stock per unit (you are really paying a bit extra for the water in the stock). Some prefer to make homemade stock, which is great if you do, but if you don't have time or desire, bullion cubes are a great option. Just monitor how much extra salt you add if you are watching your sodium intake.

14

Decide for yourself regarding organic and no GMO products. Do your research. General animal keeping and crop farming practices have greatly improved over the years in a wholesome direction. I choose to buy products which are not organic most of the time as I cannot justify the cost, but if I can, I prefer to buy local eggs from a friend and meats which are from 'humanely-raised' animals. (I am an animal science major, so I know what the jargon on the package means. Check it out for yourself by doing thorough research.)

15

Keep chickens if your area allows it and if you have the desire, knowledge, and time to care for fowl. The eggs from home-raised birds are often healthier in my experience than the store-bought eggs. Or, if you can't, buy them from a friend or a local. If not, the store eggs aren't terrible. Note: The darker the yolk, the greater the nutrition. You may also choose to slaughter the birds yourself or have your birds slaughtered elsewhere. I just couldn't slaughter my pets (which is what they'd be for me). I have it on good authority that home-raised birds can be a little tougher as well. (My husband and I want to do this, but it hasn't worked out just yet. The outset cost can be a little high, but the maintenance costs are very low.)

16

Soups

are a great budget-friendly option! Most soup recipes make 6-8 servings and can be easily frozen. The options are just about endless: vegetable, potato, cheeseburger, tomato, pasta, chili, stove-top, crock pot, etc. Literally thousands of recipes exist for soup on the internet and cookbooks. Here's one we are enjoying this week (although we modify it a little with sausage (more flavor) and only parmesan cheese):

Italian Wedding Soup

. I hope to be sharing some more of our favorites with you very soon!
Want more?
Check out my other grocery and budget recipe lenses:
More of my budget-friendly recipe lenses!
Meal Planning Pages from Reviving Homemaking
A friend of mine - Highly recommended
My friend Whitney created these menu planning and grocery list pages for sale in her Etsy shop Reviving Homemaking. They are a great deal if you prefer a more organized layout than an empty notebook.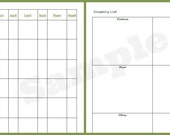 It's 5pm and you're just now considering dinner. Unfortunately, the meat is frozen, you're out of stock on other ingredients you need, and... (full description)
I plan on keeping this lens updated with any ideas, plans, and more that may be useful to those wishing to lower their grocery budget. I hope you will check back by every now and then to see what is new!
How do you stretch a dollar or a meal to feed your family?
I'd love to have your ideas!
My readers have shared great ideas! If you are in need of more tips, just read through the comments.

*Please keep in mind that I am writing about the prices where I live, not generalizing for the entire world. Also remember that not every person has the space or time to grow a garden or has the same tastes or needs as yourself. Not everyone has access to the same resources either. I wrote this lens to help as many people as I can who might need help shaving some dollars off their grocery bill. I don't mind at all hearing about the prices where you live (it's quite interesting to me), but no one can really compare different parts of the world based only on food prices. Taxes, income, and other things must be taken into account. I welcome helpful suggestions, but please keep these things in mind as you leave your comment. Thank you and thanks to all those who have left their comments and suggestions! I really appreciate them!