Where to find help and support as a new parent?
Becoming a first time mom or dad is one of the biggest life changing events there is. All the cliches are true. Your life will never be the same again. The relationship with your partner gets a new dimension. From now on, together you are responsible for another human being. You don't have a clue yet, what you're supposed to do....

In the earlier days of extended families, first time moms and dads had the support of their own parents, neighbours and sibblings. Nowadays, lots of new parents, who never had a newborn close to them before, are on their own after a few days in the hospital. They come home with all their worries, insecurities and questions, like 'does she drink enough?', 'why is he crying all the time?', 'is it normal that she breathes so irregular?' and 'how do I get him to sleep at night?'...

My job as a maternity nurse is, to answer all these questions, provide information and help building up confidence in first time moms and dads during the first week after giving birth. After 12 years of doing this, I still feel privileged when taking care of a new family. I love my job.

Picture: as a maternity nurse and a proud aunt I bathed my 2 days old niece in the tummytub - picture provided by my brother Bram Loose - all rights reserved
Carried babies are calmer babies
Comfort your baby handsfree!
All babies cry a lot, with a peek during their second month, it is not your fault. They need the reassurance of your touch, when they are upset. Carrying your baby in a sling will calm them down more easily. And you can do something else than just rocking your little one...
Dutch Maternity Care
Fully covered by basic health insurance
In The Netherlands we have an excellent maternity care service, for all mothers.
As a maturnity nurse, I spend 8 to 10 days with a family right after their new baby is born, ensuring that they know everything they need to know about breastfeeding, crying patterns, safety in the house, and general babycare.
When I leave, the parents are confident enough to take care of their baby and trust their instincts. Plus, they know where to go for extra support and information in the coming months.
At first it didn't occur to me, that parents in other countries were lacking this kind of support.
Then friends and family got pregnant abroad.
I traveled extensively and met dozens of first time moms (and dads) during my travels. Last but not least, I was the maternity nurse of many expat families in the Netherlands, who kept on telling me that this service was missing in their country, and could they please fly me in during their next pregnancy?
Over the years, this resulted in a constant stream of mails, text messages and phone calls from friends and family from former clients, who had specific questions about babycare. Or sometimes just needed to vent their worries and hear from a professional that this was perfectly normal and they were not alone.
Calm down, you will be OK
When you're worried about your little one and start searching the internet, you can get even more anxious and confused, while what you need most is to stay calm and trust your own instincts.
I spend a lot of time, ensuring parents that babies do cry a lot during their first months and it is not their parents fault. (And telling them that this rare disease they found on Google probably has nothing to do with their upset little one...)
The best you can do when your child is upset, is calm down and hold your crying baby.
The crying will pass eventually.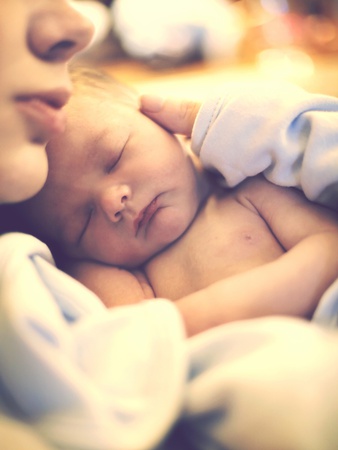 Sweetness
Buy From Art.com
Searching online for parenting advice
Of Course or a No-Go?
Do you go online when you're desperate or worried about your little one?
Where do you get your advice, if you go online?
Parenting from day 1 - a platform for parents.
It takes a village to raise a child ... Stork with Delivery
Buy From Art.com
Surveys tell us over and over again, that help and support are most important when raising a child. Yet, modern society lacks spontaneous support systems like extended families and village life more and more.
I am building an online platform for maternity care and parenting questions, together with fellow lensmaster Hannie Mommers. So, not every new mom has to struggle alone. Let's build a community on the web!
We are launching our platform for maternity care on the 31th of December. Right now there is a short survey on the site. Would you mind helping us out and answering these few questions? Thanks!
Spain is one of these countries with very little maternity care. So we texted a lot with her son and daughter in law, about babycare....
Burning Breastfeeding Question:
Extra water during hot weather or not?
Every year in summer, I get to answer this question several times.
Reason enough to write an article about it!
Thumbs up for online maternity care?
Thanks for your support!
This module only appears with actual data when viewed on a live lens. The favorite and lensroll options will appear on a live lens if the viewer is a member of Squidoo and logged in.
Share a story about your parenting experience?
Have a recommendation for other parents? Ask a question?
I love to hear from you!
By sharing, both worries/ fears/ doubts and happy moments/ solutions/ knowledge, we can make parenting less lonely and anxious. Let's support each other and enjoy our families!