A Cats Tale
Many years ago, when I was just a wee kitten, someone dumped me in an old country cemetery. I am not sure how long I was there but it seemed like a very long time. I was eventually rescued and found a wonderful loving home. I have lived in this home for 12 years.

This is my story
The Day I was Rescued
It was the first really hot week-end after winter, 2001. My sister and I had been tossed out like ordinary trash in the Old Hardin Cemetery in Kountze, Hardin County Texas.

The nerve of some humans!

We couldn't have been more than 6 weeks old, just little tikes.

We scavenged for food the best we could but we weren't very good at it.

In the photo below, right down that road is a trash can on the right. That was our feeding hole but there wasn't too much in there since people didn't come around very often.
We couldn't have been there long. Maybe a few days or a week, but by this time, we were just fur covered bones.

My sister and I were hiding in the woods on the edge of the cemetery. We saw this female human going from grave to grave with a little black box.

She'd stand in front of the grave and push a button on the box. We kept waiting for something to happen with the box or the grave but nothing ever did.

After awhile we got bored and decided to walk to the feeding hole just to see if there was any thing new we could eat.

As we got closer to the feeding spot, that female was getting closer to it too. She was still standing in front of graves and pushing that button. She never saw us, but she was coming in our direction.

My sister wanted to run away since it was a human that left us in this place but I liked this human. She seemed nice and I decided to check her out.

About this time, she spotted us. She got down on all fours, looked at us and was making a funny sound. I didn't know what she was doing but her tone was nice and she didn't seem mean, so I went to her. After all, I was REALLY hungry and thought she might have something to eat.
Just to be sure she knew I was friendly, I raised my tail as high as I could and made that sound in my throat, hoping she'd like it.

I guess she did because she picked us up, put us in this big moving thing and she even had water!

She kept making strange noises but it was pleasant & soothing and she ran her hand down my back. I liked that.

Soon, she stopped the big moving thing and left us. After a short time she came back with weird stuff to eat but I didn't care because I was hungry. My sister didn't care either. We ate it but it was sticky and crunchy. I heard her tell her friends later on that it was Peanut Butter crackers because it all she could find. (We never had that stuff again. I'm kinda glad because it wasn't really very good.)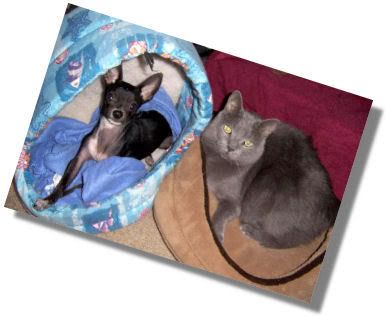 At some point she stopped the big moving thing again only this time she picked us up and took us in a small place that I later learned was her home.
We had lots of food and water and I got to sleep on this big soft thing.
There were other animals there too. She had birds, a rabbit and a little dog. Everyone was real friendly too.
The little dog is almost as dumb as the rabbit. Notice he doesn't know a cat bed when he sees one, therefore I was forced to lay in his bed. A dog bed!
Oh, the shame of it all!
It has been 7 years since that first meeting. I follow her everywhere when she is home. Sometimes she gets mad because I walk in between her feet but I don't know why she doesn't like it. When she is sick, I stay in the bed with her. I have to look out for her because she is just a human. They aren't real smart you know!
When she first found me, I weighed about a pound, maybe. Today I weigh about 12 pounds. Not so little any more.
My sister ran away many years ago. Don't know why she'd do that. She was always the scaredy-cat and never felt safe.
One day someone left the garage door open and made a run for it. She never came home.
The lady likes genealogy and cemeteries, which is why she was there that day. She tells people I am her Cemetery Cat. That gets a strange response from her people. Someone even said I look like the cat is some movie called "Pet Cemetery".
I am just happy she likes cats!
UPDATE 2013
I am still with my "momma". She even brought home a friend from the Houston SPCA. My friend's name is Blake and he is a great guy.

He wears me out though because he is only 2 years old and I am an old man now but, as you can see, we are great buddies.

I hope you will bring home a lost little friend who needs a loving family.