San Luis Valley Animal Welfare Society
The Real Gold in These Mountains
Prospectors have long sought their fortunes in the mountains of Colorado. Though the majority never strike the mother lode, one organization is achieving a mission that perhaps best personifies the true riches of the region. The San Luis Valley Animal Welfare Society is golden when it comes to saving lives.

What is the value of 8,000 plus animal rescues and adoptions? Surely it is priceless when compared to the gold that was once extracted near the site of this animal sanctuary. Material things have temporary value, but acts of compassion have a worth that is never diminished.

The founders of the SLVAWS, in choosing to make a total commitment to the cause of animal welfare, have truly established a living legacy. Read on to learn how you can join forces with other animal heroes who are making a real difference in the lives of precious animals.

Image: A darling puppy awaiting adoption. ©RenaissanceWoman2010 - All Rights Reserved
There's Gold in Them Thar Hills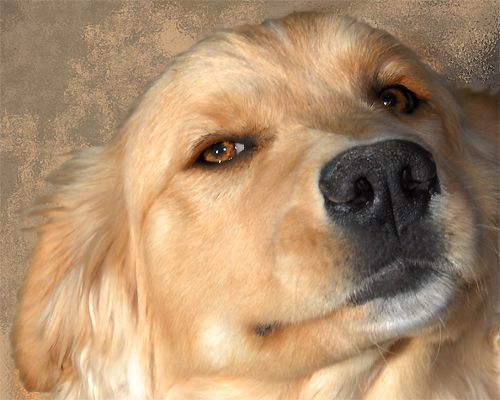 Here's the Gold We Treasure Most - A Golden Girl Awaiting Adoption
Image Credit: ©RenaissanceWoman2010 - All Rights Reserved
How can a sweetie like this end up in a shelter? This shy girl should already be a member of a loving family. If I didn't already have five rescue animals in my home, this beauty would be going home with me today.
News Flash: Golden Girl got adopted on March 2, 2013!
Bird's Eye View of the Shelter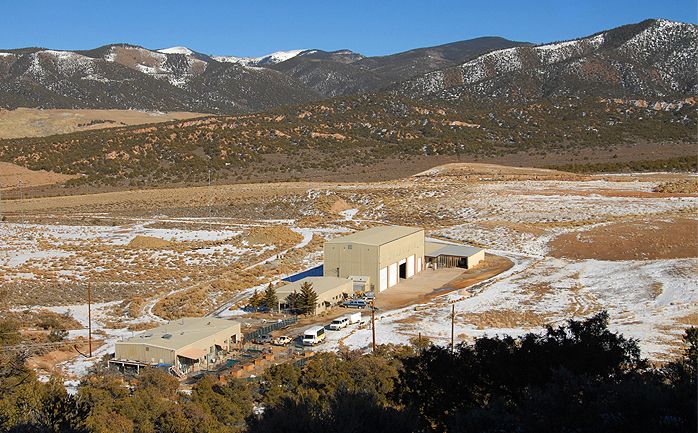 The SLVAWS Dog Shelter is Nestled in the Sangre de Cristo Mountains of Southern Colorado
Image Credit: ©RenaissanceWoman2010
A spectacular natural setting for animals. How many other shelter dogs live in such an incredible sanctuary?
Biggles the Chow Chow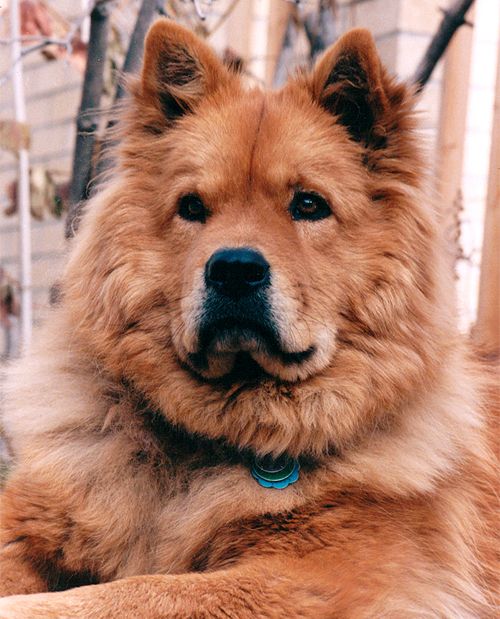 Biggles is the dog who inspired all the good
happening today within the SLVAWS
and is the sanctuary namesake.
Image: ©Aileen Peek
Biggles was the centerpiece of Aileen Peek's education programs and was the most loved chow ever. He visited classrooms with Aileen to teach children about humane treatment of animals. Biggles also attended each Saturday adoption fair for five years. He was able to demonstrate to potential adopters that many of the perceptions about chows are unfair and just plain wrong. When children could snuggle up with Biggles and giggle as he gently licked them, he had done his job in showing parents that chows deserve a chance just like any other breed of dog.
Biggles' Battle Mountain Animal Sanctuary
It seems fitting that the San Luis Valley Animal Welfare Society (SLVAWS) located their sanctuary at the site of the former Battle Mountain Gold Mine operations center. Successfully running an animal rescue organization is a constant battle: a battle of securing adequate funding, finding the right homes for so many abandoned animals, and enlisting the number of volunteers and foster homes necessary to provide loving care to animals awaiting adoption.

Though it is an uphill battle, and the mountain looms large, every individual associated with the SLVAWS has proven to be more than up to the challenge. As a volunteer for the SLVAWS, I deeply respect those associated with this organization and its mission. It is a rare individual who can, day after day, year after year, head out to the battle front knowing that he or she is vastly outnumbered. Just as soldiers see and experience things that haunt them forever, the same can be said of animal defenders who witness the kind of abuse and atrocities that would leave anyone shell-shocked.
A Labor of Love
Hearts of Gold
Founded by Aileen and Frank Peek, the SLVAWS is a nonprofit 501(c)(3) no-kill shelter and organization run entirely by volunteers. Everyone on the animal rescue team is focused unselfishly on the animals served by the organization. The huge sacrifices made to ensure the welfare of suffering or needy animals are beyond inspirational.
It was the example of Aileen and Frank, who tirelessly champion the cause of animal rescue, that led me to become a volunteer at their shelter. How many people would mortgage their home in order to save animals? I know of two. Aileen and Frank. That is what I call holding nothing back.
Image: Aileen Peek, shelter founder and director, receiving a warm hug from Callie. Photo by RenaissanceWoman2010.
SLVAWS Mission
Few people ever take time to read the stuffy mission statements of most organizations. A picture, however, is worth a thousand words. In that case, the gallery of photos that follow is perhaps worth a million words. The faces tell the story best, so I'll let them do the talking.
These are just a few of the thousands of animals saved by the San Luis Valley Animal Welfare Society. Though the majority of these photos are of dogs, because I volunteer at the dog shelter, the SLVAWS also saves cats. In fact, my first association with the organization took place when
I adopted a kitten
, Little Pip, in 2007.
Little Pip, age five months, on the day I adopted her from the shelter.
Image Credit: ©RenaissanceWoman2010 - All Rights Reserved
Choosing to adopt this kitten was one of the best decisions of my life. Pip has enriched my life beyond measure.
Adoption Album
Cristina and Chase have the best kind of Mojo (now named Harrison). Thanks for adopting our adorable little boy.
Our sweet girl Fergie (now Molly) found her family. Thank you Jessica and Kyle!
Our handsome guy, Beau, just found a new best friend in Michael. We think this is a totally dynamic duo.
Sir Lancelot was adopted by Courtney and family. Though he is now called Lincoln, he gets to keep his knighthood.
Hanna found her forever home and family. Thank you, Tilly!
Cooper (now "Luke") is home for good. He immediately loved Tilly.
Betsy and Rosie are now a part of the John and Cheryl Rowe family. Betsy is sure to become the official Crestone greeter just as she was at our shelter.
Jed adopted Amy and John this weekend. We think he made an amazing choice.
Morgan found her family. Thanks, Kim and Austin!
Cleo's life began anew today thanks to Rebecca and Richard. We so appreciate you!
Paloma went home to her family today. Thank you, Jacob!
Carmelita adopted Angie and Kris today. A puppy always knows her family when she sees it.
Happy New Beginnings
Click on each mini photo to read captions.
Benson always hoped to one day be in a family photo. Today his wish finally came true.
Ruger already smiles just like his new brother Derek.
Link wiggled his way into the hearts of Lauren and Aaron.
Ryan has no time to say "Milk Bone" for the camera.
Misty is expressing adoption day bliss thanks to Kathy.
Sydney and Nick announce the adoption of a bouncing baby girl (Marlee).
Chloe is one blessed little sweetheart thanks to Laurie.
Cinnamon just became a part of this beautiful family thanks to Latoya and Joel.
Bobby is already deeply in love with his new family (Alex and Kayla).
Snow White won the adoption lottery. Her good life begins now. Thank you, Samantha!
Have you been adopted by a rescue animal?
Do you have an adopted animal in your home?
Why We Do What We Do - Click On Each Dog Pic
Our Mission is Cloaked in Fur, Wags a Tail, and Gives Sloppy Kisses
I would cuddle you so hard.
Wanna play ball with me? Ya wanna? Come on! You know you wanna.
Will you be my BFF (Best Friend Forever)?
Would it be okay if I adored you?
Just thinking you might choose me makes me smile.
How about some puppy love?
I could be your Valentine.
Find Your Furever Love
Check out the adoption section
of our website to find the
next love of your life.
www.slvaws.org
Paws up for saving lives?
This module only appears with actual data when viewed on a live lens. The favorite and lensroll options will appear on a live lens if the viewer is a member of Squidoo and logged in.
A Blind Dog Who Sees With His Heart
Ray has been rescued twice by the SLVAWS.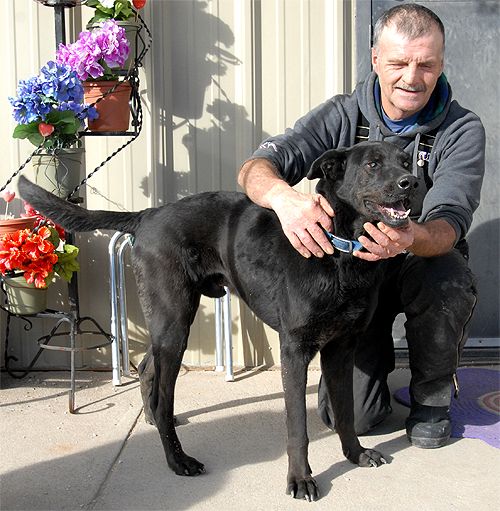 Ray may be blind, but he sees more than most of us do.
He is pictured here with his foster dad, our shelter manager, Ron.
Image Credit: ©RenaissanceWoman2010
Ray is a labrador retriever who has been blind since birth. Because he is a special needs dog, Ray deserves a caregiver with a heart as big as his. He is the sweetest dog ever. Ray is extremely well-adjusted and very affectionate. The SLVAWS has rescued Ray twice when his owners could no longer care for him. Ray is truly a dog with a beautiful spirit. He deserves a loving family and a forever home. Might that be you?
Saturday Adoption Fairs
We host a pet adoption fair every Saturday at PetSmart in Colorado Springs (7680 N. Academy Blvd.). Please come join us from 11 a.m. to 5:00 p.m.
We Found Our New Families
Now We Know How It Feels To Be Wanted
My new family adopted me on February 23, 2013.
I was chosen on February 23, 2013. It's all I ever wanted.
February 23rd was like a birthday. New home, new family, new life.
Out of all the dogs in the world, they chose me! Adopted 2/23/13
I'm Teddy Bear and now I know I'm loved. Adopted 3/2/13
I'm Nefertiti, the queen of my new family. Adopted 3/2/13
Junior's the name and getting adopted is my fame. Adopted 3/2/13
I'm Willow and I am loved. Adopted 3/2/13
I'm no longer an orphan! Frisco got adopted 3/9/13.
Hank here. I was adopted at the end of March.
The Joy of Adoption
We Are Loved
Tessa, Tori's sister, was adopted 3/2/13!
Maisie found her forever home on 3/2/13!
Golden Girl was adopted 3/2/13!
Tammy was adopted 3/9/13!
Chase was adopted 3/9/13!
Libby was adopted 3/9/13!
I Had Only Moments to Live
Saved from Euthanasia by the SLVAWS
My name is Sadie. My daughter and I were scheduled to be killed.
I'm Savannah. Thanks to Aileen my mom and I got to live.
They call me White Fang, but I'm just a good ole boy who got a second chance.
Russell, one of our most popular dogs awaiting adoption, is pictured here with Kristen, the PetSmart trainer who supports our mission in many ways.
Saving Animals From Needless Deaths
Healthy, wonderful dogs and cats are euthanized every day because of irresponsible humans. City pounds and shelters are filled to capacity with stray animals that will lose their lives if not quickly claimed by someone who cares. The SLVAWS, a no-kill shelter, pays to save the lives of vibrant animals that are about to be put down due to no crime of their own. Though it can be costly to bail out an animal before it is euthanized, the weight of not doing so is heavier to bear.
Help Us Save Lives
Links
Learn more about the SLVAWS at their official website.
We post our animals on PetFinder.
Please stop by and become one of our friends. Giving us a "like" on our Facebook page can potentially help us secure funding for animal rescue and adoption. Thank you for making a difference through this quick and simple act of support.
Our Mailing Address
San Luis Valley Animal Welfare Society
76 El Rio Drive
Alamosa, CO 81101
How You Can Save an Animal
Call 719-587-WOOF (9663) if you wish to adopt an animal or support the shelter in any way (or email us — woof@slvaws.org). We would love to hear from you.
1

Make a donation today.
We are grateful for whatever you can give.

2

Volunteer at our Saturday PetSmart adoption fairs.
If you live near Colorado Springs, we would love to have you join us.

3

Adopt a dog or cat waiting for a forever home.
It may be the best thing you do in 2013.

4

Donate a percentage of your Squidoo revenue to SLVAWS.
Select the San Luis Valley Animal Welfare Society in the Squidoo charities menu.

5

Purchase an item featured on our Squidoo pages.
We get a small percentage of the sales.

6

Host a fundraiser for a dog park.
Empower children to take charge of the entire project or event.

7

Foster an animal awaiting a forever home.
Your loving home environment will help an animal become more adoptable.

8

Volunteer at your local animal shelter.
Most shelters depend mightily on the generosity, goodness, and kindness of their volunteers.
Volunteer of the Month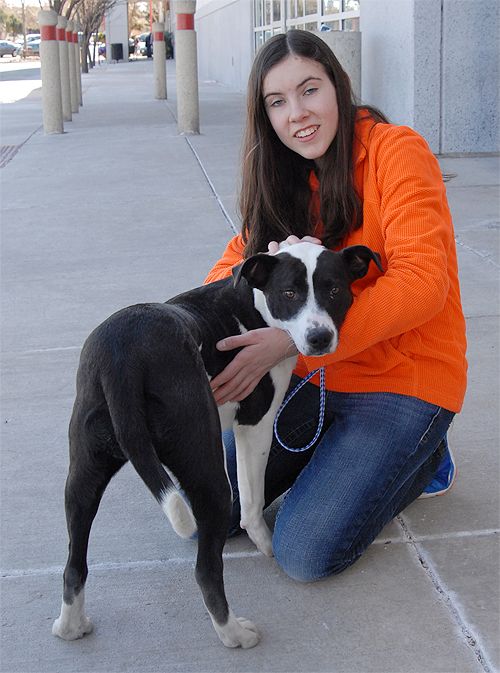 Teen volunteer, Rileigh Jones, walks Lucy during an adoption fair.
Lucy would love to be adopted.
She is a pit bull/blue heeler mix.
Sweetest girl ever.
Image Credit: ©RenaissanceWoman2010
Rileigh Jones, age 14, is a student at Falcon High School. She has always had an extraordinary love for animals. Rileigh declared at four years of age that she intended to become a veterinarian. We have no doubt that the future Dr. Rileigh Jones will be an amazing vet. Maybe you will be fortunate enough to have her caring for your animals. Rileigh has a special way with animals and we are privileged to have this exceptional young lady serving our organization. Thank you, Rileigh! You are making a true difference in your corner of the world.
Shop to Stop Animal Abuse
Every purchase makes a difference.
Dog Parks Greatly Increase Quality of Life
If you loved recess in school, please support the same for shelter dogs.
We currently have three dog parks at the SLVAWS shelter. A dog park is a safe, fenced playground where shelter dogs can romp around, socialize with other pups, and have an extended "recess" period every day. A dog park is extremely important to the quality of life and health of shelter animals. When dogs get a great deal of fresh air, exercise, sunshine, and play time, they are visibly happier, physically healthier, and emotionally/psychologically more well-adjusted.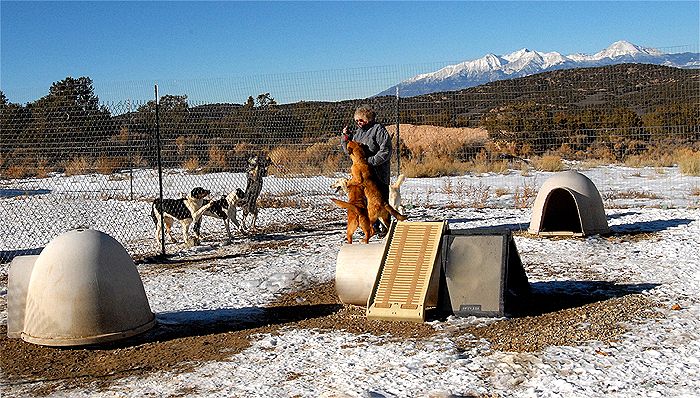 Shelter director, Aileen Peek, interacts with dogs in two of the adjacent SLVAWS dog parks.
Image Credit: ©RenaissanceWoman2010
Dog parks enable our animals to experience more freedom. Rather than spending the majority of their time in smaller kennels, our dogs can race around, interact with playmates, and just enjoy being dogs. Each dog park is outfitted with a number of igloo dog houses. This enables our animals to get in out of the weather when necessary, take a nap, or have a private refuge when desired. Toys and agility equipment are also provided.
Given the large number of animals we are sheltering (we have been running at capacity), there is a major need for additional dog parks. Our cost to do the installation work ourselves is right around $500 per park. This is a very doable short-term project if we can get either a benefactor to underwrite an entire dog park project, or have a number of individuals or groups join together to support these much-needed parks.
This would be a great project for a youth group or for school children to sponsor through creative fundraising. As a former elementary teacher, I've never seen a child who wasn't totally enthusiastic about recess. I can imagine students feeling pretty fantastic about helping pups have the opportunity for the best doggie recess their efforts can provide.
Questions about funding needs or giving a designated gift? Call Frank Peek at
719.587.WOOF (9663)
.
Toys for Doggie Recess
Toby the rescue dog endorses the rope and ball toss toy. It's his favorite.
Spay and Neuter Clinic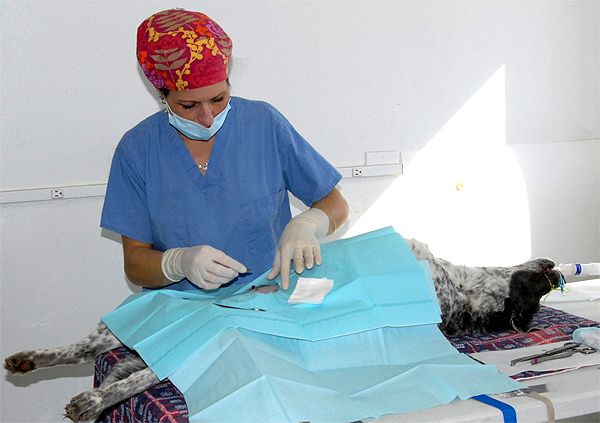 Dr. Emily Hays begins a spaying surgery on Libby (one of our shelter dogs).
Image Credit: ©RenaissanceWoman2010 - All Rights Reserved
Low Cost Spay and Neuter Clinics
One of the most important services offered by the San Luis Valley Animal Welfare Society includes monthly low-cost neutering and spaying clinics. As a shelter located in the poorest county in Colorado, these clinics are absolutely critical to making a dent in the explosive growth of the homeless dog and cat populations. We are so grateful for the veterinary teams that provide such exceptional medical service to our shelter animals (and to Valley pet caregivers).
Contact Us
Phone: 719-587-WOOF (9663)
Email: woof@slvaws.org
Post-Operative Recovery
Our Special Brand of Tender Loving Care
Lisa Petri, of the Colorado Animal Welfare League,
provides post-operative care in the surgical recovery room.
These two patients are feeling no pain following their neutering.
Image Credit: ©RenaissanceWoman2010
Samantha Brady offers Pip some of the best kind of medicine.
Image Credit: ©RenaissanceWoman2010
#1 Ranking!
This Squidoo page achieved a #1 ranking on February 15, 2013. Thanks for the love dear friends and animal supporters. We deeply appreciate every single one of you who contributed to this achievement.
Here's a Doggie Kiss With Your Name On It
It's Callie's way of saying thank you.
I would kiss you every day.
Image Credit: ©RenaissanceWoman2010 - All Rights Reserved
News Flash: We are overjoyed to share that Callie was adopted on February 16, 2013. Her sweet life is now underway. This is cause for celebration!
We Loved Having You Visit Today
Thank you for your presence here. We always enjoy your visits. Please take a moment to drop us a line. We genuinely appreciate and enjoy receiving your comments. Hope to see you again soon!